Blog Home
Four Questions to Ask When Searching for an Apartment Floor Plan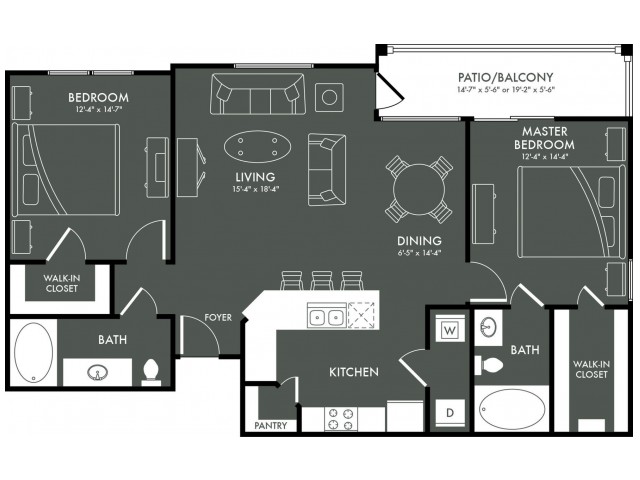 Choosing the perfect apartment floor plan can seem like a daunting task, but it doesn't have to be when you know what you're looking for! Ask yourself these five questions to help yourself keep a clear head every step of the way.
1. How much space do I need?
Plenty of factors go into determining how much space you need: potential roommates, the size of your furniture, and how much stuff you have, to start with. Take the time now to go through your things and get rid of anything you don't love or need anymore. Measure your furniture and find out the approximate square footage of your current home so you can use it as a frame of reference when you're shopping for a new apartment.
2. What necessities am I willing to invest in?
You probably have a few things on your "must have" list of criteria for an apartment. Write those down and rank them in order of importance so you can have a tangible guide for what you should and shouldn't give up. Depending on your situation, things like location and whether an apartment community is pet-friendly may go on this list.
3. How important are the luxuries I want in an apartment?
Similarly, you should have a guide for the qualities of an apartment home that you want, but that you maybe don't need. Writing them down in a separate list from your necessities can help you see which apartments have a good mix of each of the things you want and need. As you did with the necessities, rank these luxuries in order of importance so you can have flexibility as you shop.
4. How will my day-to-day life look here?
Of course, things may look great on paper, but seeing it in person and envisioning your life there may be the determining factor to whether an apartment is a perfect fit for you. Ask whoever is showing you a new home plenty of questions about the community life and resident policies. Walk through the apartment and picture yourself going through your daily routine there. Keep your phone and charger out and test the internet connection and outlets to see if they work and if you have comfortable access to them.
The Grand Estates Woodland is a perfect spot for many people looking for a luxury apartment for rent in Magnolia. Our homes have large and spacious floorplans, walk-in closets, spacious pantries with built-in shelves, spacious outdoor living spaces, and expansive living and dining spaces. Contact us to schedule a tour or learn more.
What tips do you have for finding the perfect apartment floor plan in or outside of Magnolia, TX? Let us know by leaving a comment. Thanks for reading. Good luck!